Dog Nutrition
We are now feeding Loyall Dog Food, Active Adult and Grain Free Chicken and Potato. Click on a bag for more information.
http://www.nutrenaworld.com/products/dogs-cats/loyall/index.jsp
Complete and balanced nutrition for the prime of life.
Are you looking for premium nutrition for your energetic friend? Versatile, highly digestible formula gives your best friend the complete nutrition with a balance of protein, carbohydrates and fat to keep your dog vibrant and full of energy.
Formulated with glucosamine
Omega-3 & Omega-6 fatty acids important for immune system health
Added prebiotics & probiotics to support nutrient absorption
Select blend of trace minerals important for skin & coat health
4lb and 40lb bags available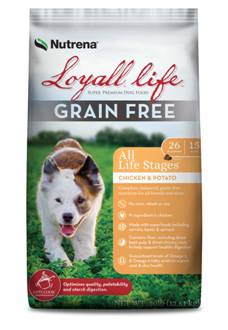 Complete and balanced grain free nutrition for all breeds and ages
Many pet owners look for products for their dogs who may have sensitivities to grains. Loyall Life™ Grain Free Chicken with Potato Recipe features no corn, wheat, soy or rice and is appropriate for dogs in all life stages.
With ingredients such as superfoods to support immunity, added fiber for digestive support and Omega 3 and 6 Fatty Acids for skin health, it also includes chicken as the first ingredient. These all add up to make dogs like our featured rescue dog, Huckleberry, very happy indeed.
#1 ingredient is chicken
Made with superfoods including carrots, blueberries & spinach
Contains fiber, including dried chicory root, to help support healthy digestion
Guaranteed levels of Omega 3 & Omega 6 fatty acids to support coat & skin health
Puppies will now be fed Loyall Life Large Breed Puppy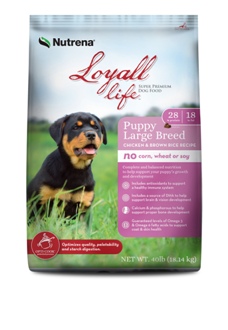 Complete, balanced nutrition to help support your puppy's growth and development
Loyall Life™ Large Breed Puppy Chicken & Rice has the same great features as our regular Loyall Life™ Puppy recipe, but the protein and fat levels are adjusted for larger breeds.
That's important for dogs like Reyna who is in training to be a therapy dog when she grows up, as our Large Breed puppy formula will give her a great foundation.
Includes antioxidants to support a healthy immune system
Includes a source of DHA to help support brain & vision development
Calcium & phosphorous to help support proper bone development
Guaranteed levels of Omega 3 & Omega 6 fatty acids to support coat & skin health